Home

Church Teaching
on Home Education

Curriculum Fair
Sacramental
Guidelines by Diocese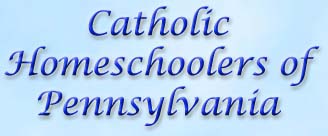 "Catholic home schooling", as defined by the late Fr. John Hardon, S.J.," is the planned and organized teaching and training of children at home, for their peaceful and effective life in this world, and for their eternal salvation in the world to come." The current laws pertaining to homeschooling in Pennsylvania were passed by our legislature in 1988. This web site introduces you to the statewide network of Catholic Homeschoolers of Pennsylvania and briefly explains the essential elements of homeschooling in Pennsylvania.
This network serves hundreds of Catholic families in Pennsylvania who are faithful to the Magisterium of the Church & Pope John Paul II and who find home education to be their response to the Church's teaching to be the primary educators of their children.
Contact us at:

Catholic Homeschoolers of PA
101 South College Street
Myerstown, PA 17067-1212
Phone: (717) 866-5425
E-mail: info@catholichomeschoolpa.org
DISCLAIMER: Information contained on this website does not constitute legal advice and does not replace reading the actual homeschool law or consulting with the Pennsylvania Department of Education or appropriate legal counsel.
---
Webmaster: Ellen Kramer -- E-mail: webmaster@catholichomeschoolpa.org
© Copyright 2012 Ellen Kramer or Catholic Homeschoolers of Pennsylvania unless otherwise noted.
This website was established on November 1, 2000. This page was last updated on January 11, 2012.